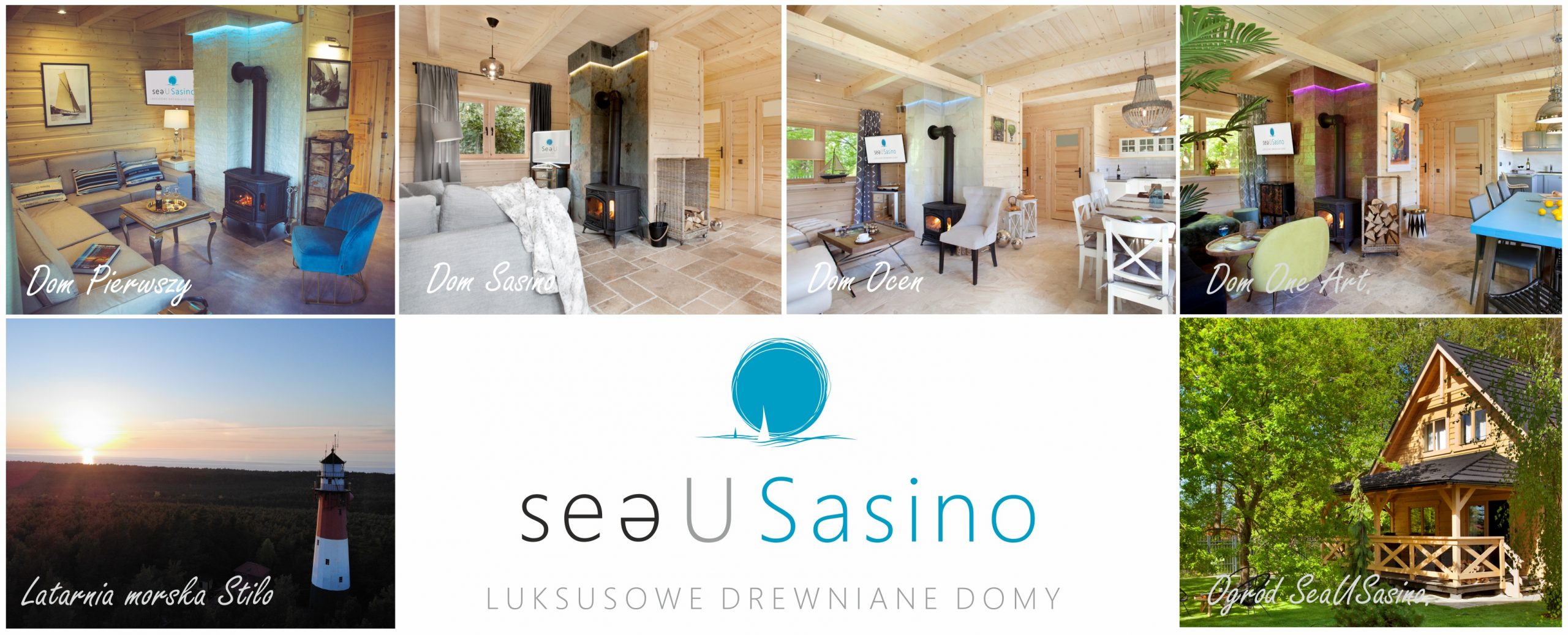 11 June 2022
SeaUSasino – Luxurious wooden houses with fireplaces – Many reasons and one place to rest!
Sasino – houses for rent  
Sea U Sasino offers luxurious houses for rent by the sea in one of the most breathtaking and quaint seaside places. Sasino lies around 15 km from Łeba, encourages with the most beautiful beaches, endless dunes, and diverse nature. All-year wooden houses for rent are the guarantee for unforgettable experiences for everybody. Stay in Sea U Sasino will stay in your memory for long and we hope you will come back to us often. Benefit from our transparent offer without agents or hidden costs!
In the Sea U Sasino offer we have four houses for rent by the sea, which stand out with their style and elegance. Despite being alike one another from the outside, each of them has a different story to tell.
First House is the newest of our apartments, which stands out with its unobvious matches like white marble and grinded concrete. Thanks to carefully matching decorations, it's also a place in which you can relax and forget about worries.
House Sasino is a proposition for people who value closeness to nature. Travertine and volcanic lava were used to finish the house and give it magical powers. This place stimulates imagination and isn't yet another ordinary house by the sea for rent.  
Ocean House is a true oasis of calm in a true marine style. Sipping morning coffee on a terrasse, you will feel as on a deck of a luxurious yacht, where the wind always blows the right direction.
House One Art is an artistic expression of love to art, and everything connected to it. You will find on the walls works of art from both Polish and foreign artists. It's a unique place when it comes to houses to rent by the sea. Sasino having them on its map can easily be known as a cradle of art leisure.
Taking into consideration the arguments above, if anybody asks you: Sasino house for rent or Sasino renting houses – but what for? – show them our website. In each tab, they will find the answer.
Sasino and its surroundings are not only houses but also a ton of other attractions. Among them beaches, forests, Stilo lighthouse, and Ciekocinko stable, being a part of a resort Ciekocinko Palace Hotel Resort & Wellness. It's also Łeba which in 1998 became a city-state. For visiting this beautiful place, you can book the whole day, trying Kashubian treats, strolling down the boulevards or visiting numerous museums and amusement parks.
After the day full of sensations, Sasino will be waiting for you. All-year house is a great benefit of providing you with comfort and safety no matter what the time of the year. Visit us both in the summer as in the winter. In the transition months you can count on attractive discounts and a warm fireplace – a freestanding stove, which we placed in all our luxurious houses.